Students and instructors alike have had the opportunity to try new approaches during the last year and a half.
So, before you let the pandemic teaching strategies fade in your memory, consider what worked well for you in your remote courses and what could remain as a new standard addition to your ongoing teaching practices.

1. Keep the chat going
Both instructors and students reported that the chat function in Zoom could be very engaging in synchronous lectures. Here's a couple of ways to bring a "chat" to your in-person teaching.
A Google Chat Space will allow students to post to a chat thread even as they are sitting in your classroom. Instructors can then check in occasionally to see if there are questions or comments that need addressing. In order to do this, start by creating a Google Group for your course. Then, check out the instructions on using Google Chat to set up the space.
If you use Google Slides for presentations, you can turn on the Audience Q&A to allow students to ask questions. A nice feature of this tool is that it allows students to upvote questions. You can access this feature by clicking the arrow beside "Present" and choosing "Presenter View" where you can turn on the audience tools. This video demo provides more details, including how students go about asking questions, how to present the questions to the class, and how to review questions at a later time.
Pro tip: If you want to make it even easier for students to access chat options, you can generate a QR code and add it to your slides. That way, students can scan the code on their phones and go straight to the chat.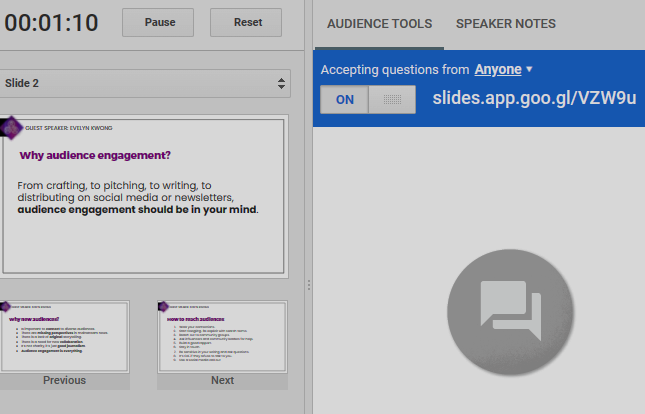 2. Collaborate digitally
Shared Google Docs will continue to be a great way to get students collaborating on tasks in the in-person classroom. If your course relies on Excel spreadsheets, Google Sheets might make sense for a shared activity in the classroom.
For more visual, free-form collaboration, Google Jamboard can act as white-board to brainstorm together while working in small groups. In the workshop Chalk & Talk 2.0, we discussed even more options for this kind of collaboration. The slides for this workshop include a handy table that compares Jamboard to three other tools: Miro, Figjam, and Excalidraw!

3. Ask students
Many instructors had great success using free tools like Mentimeter and Padlet in their virtual classrooms. Both of these tools also lend themselves to engaging in-person activities. Both have free and paid versions available.
Google Forms are another user-friendly way to gather student input. Check out the Tech for Teaching Google Forms Library. It's our collection of templates that can be customized to your needs and also includes step-by-step instructions.

4. Find new uses for recorded lectures
Many of us created lecture videos over the past year. These may have been pre-recorded videos or recorded live as part of a synchronous class.
Why discard all that hard work preparing, recording and collecting those videos when they could still be useful to students for years to come?
Students could watch a video clip that introduces a new concept, case, formula, or problem/solution before coming to class. This frees up more time during the scheduled lecture for class discussion, addressing questions and other active learning opportunities.
Videos can also be used for review and can help mitigate the number of questions students ask about course content.
If you are interested in simple techniques for editing your lecture videos, check out these Tech for Teaching Video Tutorials.
Perhaps you enjoyed making lecture videos and want to take it to the next level. If so, these guides provide advice on planning, recording and editing:

5. Use D2L Brightspace as a course hub
By necessity, D2L Brightspace course shells became even more important to running our courses smoothly during the pandemic. If you found strategies of interacting with students through D2L that worked, do not leave them behind!
Use the D2L Brightspace shell to house links to all your digital assets, from videos to collaborative documents. Post the syllabus and assignment instructions. More details on how to do this are available on the Adding content in D2L Brightspace page.
Encourage students to set up notifications. They will be reminded when assignments and quizzes are due, and they will be notified when you add an announcement or new content.
Take note of which forum discussions really got students talking and recycle those questions/topics for new students.
If you created tests or quizzes in D2L this past year, think about how you might continue to rely on those question banks in your future assessments even as those assessments may transition away from D2L itself.
If you are looking for support using D2L, helpful instructor tutorials can be found at the LMS Support site.
This post was adapted from Karyn Olsen's Teaching Matters Newsletter for the Ted Rogers School of Management. Karyn Olsen in an Educational Developer with the Department of Innovative Learning at Humber College. She holds and PhD and MA in Anthropology from Western University. As a fellow instructor, she is deeply invested in supporting the teaching success of her colleagues. Karyn shares teaching ideas and resources on Twitter @karyn_olsen.
Sally Goldberg Powell is the Instructional Technologist for the Digital Learning team at the Centre for Excellence in Learning and Teaching at Toronto Metropolitan University. She also teaches two first-year courses at the TMU's School of Journalism.

For more tips, check out the Tech for Teaching page.