As part of a multimedia production team in higher education, we often hear from instructors who worry their design skills are lacking, or that they don't have the time to make their slide presentations more engaging for students.
However, improving slides can be as simple as adding a few images and ensuring the presentation is consistent and clear.
Presentation templates, photos, illustrations and music are all ways to up your slideshow game without having to start from scratch.
Below are some examples of useful sources that can help enhance the appearance of your presentations in no time. Please know we offer this as a menu of possibilities rather than an overwhelming to do list! Using one or two of the resources shared below can have a big impact.

Copyright: making sure it's not just free, but free to use
Since your students cannot copy someone else's work without proper permission and attribution, it's good practice to model this in your own work. That should include any materials in your slide presentations. Incorporating visual content that is free to use is one way to model how to avoid visual plagiarism.
You may also be familiar with Creative Commons licenses, a standardized way to clearly label how assets can be used and if attribution is needed. You can search for images under these licenses through the Creative Commons search portal.
When using other free sources, such as stock image websites, be sure to read the licensing information carefully for each source.
Of course in some cases, there may be exceptions in how you use copyright material because of the Fair Dealing exemption in Canada's copyright law, but it's often a good idea to check with an expert. Most university libraries have a copyright librarian who can help you navigate through the complexities of copyright.

Designing with inclusivity in mind
When reviewing your slides, it's also a good opportunity to ensure you are using your slides as a way to let all your students know they belong. Consider who is represented in the photographs and illustrations you choose. Select slide templates with larger text and fairly high contrast so students with vision impairments can see the content more clearly. These improvements benefit all learners as you model how everyone in your learning community is acknowledged and valued.
For more ideas about how to add inclusivity to your presentations, please check out the blog post Creating inclusive visual content: Tips to make teaching materials for all students.

Presentation templates
Using pre-made slide templates can not only spruce up the appearance of your presentations, but can help you ensure slideshows are cohesive in terms of themes, colours, fonts, image and text placement. In addition, because they have been properly laid out with spaces for titles and paragraph text, they will be more accessible for students who use screen reader technology.
Well-designed presentation templates help engage the audience as they communicate professionalism and lessen distractions for the viewer. Also, presentation templates can speed up creating your slide deck as everything is laid out for you!
Tech for Teaching Presentation Library
If you are looking for some great templates, CELT has curated several available templates here. These templates have optimized text for readability and accessibility, customizability for your content, and simple layouts to facilitate clear communication.
The Tech for Teaching presentation library is unique as it contains a collection of original and adapted presentation templates optimized for teaching. This is unlike the other general templates you can find online, which are more geared towards business presentations.
To use these templates on Google Slides, you only need to make a copy of the desired slideshow template and edit it however you like. For PowerPoint, you would have to download the templates first, and then you are free to open them and save your edits.
The slideshow contains instructions on downloading and editing the templates if you require additional information.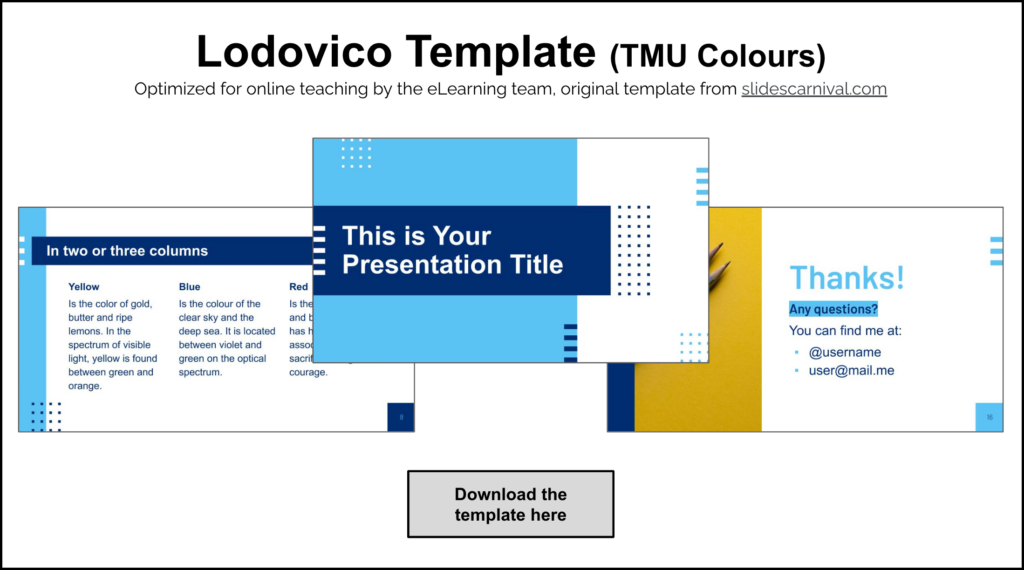 Another excellent source for finding slideshow templates is SlidesCarnival. These templates are free to download and use for Google Slides, Powerpoint and Canva.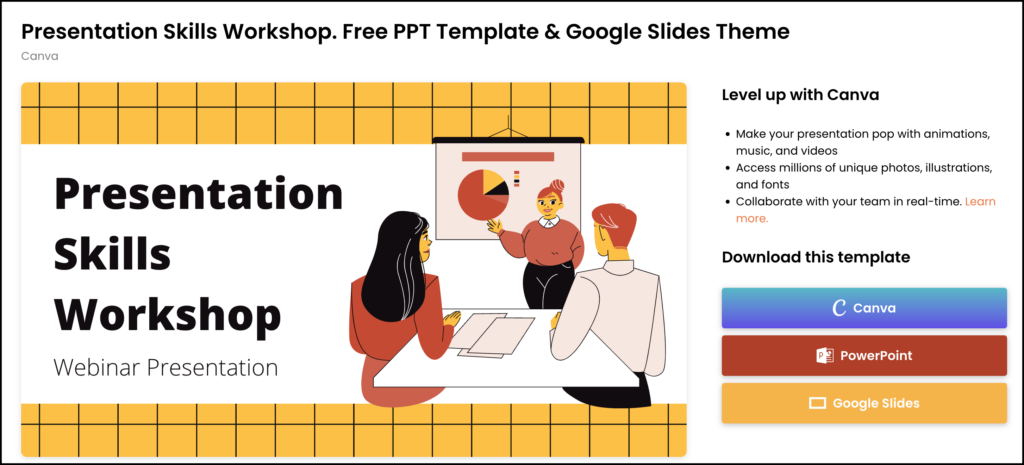 The one term of usage is to attribute the template by providing appropriate credit and a link to the website. Most of SlidesCarnival's templates include an attribution slide at the end of the slide deck, which you can keep in your presentation to give them credit.
These slideshow templates are great if you are looking for a specific themed template or want something more cut out for you with font, graphics and colour choices already built into the examples.
Slides is another great resource for slideshow templates and presentation creation for your teaching materials. You can create an innovative slideshow and present it directly on the website with a free account. Along with the countless templates the site provides, users can also parse through featured public presentations made by fellow users and edit them to their liking.
Some unique features on Slides include interactivity options with included elements, live slideshow annotations, and a new AI assistant that helps improve your presentation content.

Sources for free photography
Adding photographs and images to your slideshow is a great way to make your presentations more attractive and engaging. According to Harvard University, pictures and media help convey concepts and information and can improve comprehension as they reinforce the messages communicated in the text.
One key aspect of including images in your presentations is that they are relevant and support the content you deliver. These visual images are most effective when used to support or add information to your presentation's concepts rather than being used for aesthetic purposes.
While it may be tempting to turn to Google Images to add images to your slides, you likely don't have permission to freely use those photos. Luckily, many free sites offer high-quality images for your desired needs.
One great source to use for free images is Pixabay. This source contains high-quality photos searchable by tags and keywords. It's also helpful in finding videos, illustrations, gifs, music and sound effects.
All of the media content on Pixabay is free to use under their license, meaning you don't have to ask for permission or even give credit to the artist.

Like Pixabay, Pexels is another fantastic source that provides searchable photos and images free for commercial use. This source specializes in only photos and videos but is excellent for finding assets of more niche topics.
The photograph library can be filtered by either landscape or horizontal images, making searching much easier. You can also select your desired image size if you want smaller or larger pictures in your presentation.
Another great photo source is Burst by Shopify, which also specializes in free photographs for commercial use. Like the other sources, these photographs can be used freely without attribution.
What's great about this source is that you can search by new images to see pictures that are less used or "staff picks," which shows you some of their favourite images.
While the sources above are great places to start during your photography search, many other websites provide high-quality images free of charge. Try checking out the following websites for more images, and be sure to check out the licensing information before using.

Sources for free illustrations
Illustrations
If you are looking for a way to improve the appearance of your slideshows with simple figures, illustrations are great resources to include in your presentations. Often customizable, these graphics are great for illustrating specific concepts and are memorable visual aids for the viewer.
Many free online illustration resources are available to add graphics to your presentations. Some of these sources require you to make a free account, but you can always link it to your Google account for a quicker login experience.
The Tech for Teaching Icon Library contains icon sets specifically selected and designed for teaching materials. These icons can help students identify common activities and information and are a quick way to add visuals to your slideshow presentations.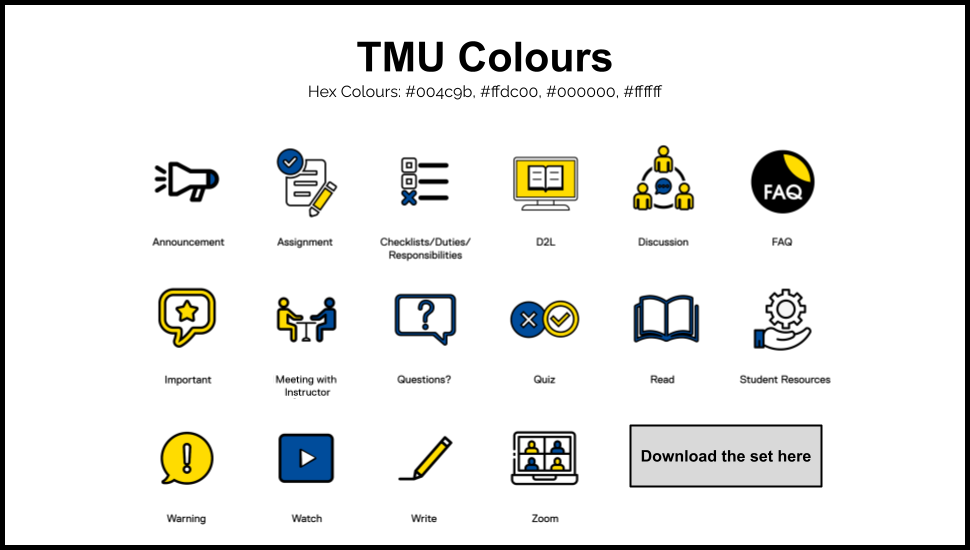 To use these icons, you can browse through the sets in the icon library. Once you find a set you like, click on the "Download the set here" button, and click once more to open the link. Then, click on the download button at the top-right of your browser.
To add these icons to your presentations, simply insert them as you would any other image file into your presentations. Further instructions on utilizing these icons can be found in the Icon Library.
If you've been anywhere on the internet in the past 10 years, you've probably come across a Bitmoji before. These create-your-own personal emojis are downloadable and can be designed in minutes. You can customize your character by selecting its hair colour, clothing, facial expressions and more.
Also, once your avatar is created, you can choose what your Bitmoji is doing from hundreds of different scenes. The Bitmojis are entirely free to use however you please.
To make your own , go to the Bitmoji website or download the mobile app on the App Store or Google Play. Also, you can download the Bitmoji Google Chrome extension, which allows you to insert Bitmojis directly from anywhere on the web by copying and pasting.
Other illustration sources
Plenty of other online illustration sources are at your disposal for improving the appearance of your presentations.
Be sure to check out The Noun Project if you are looking for simpler icons. With a free account, you have access to all of their icons in black with attribution. However, you would need to pay for an account for colour customization and usage without attribution.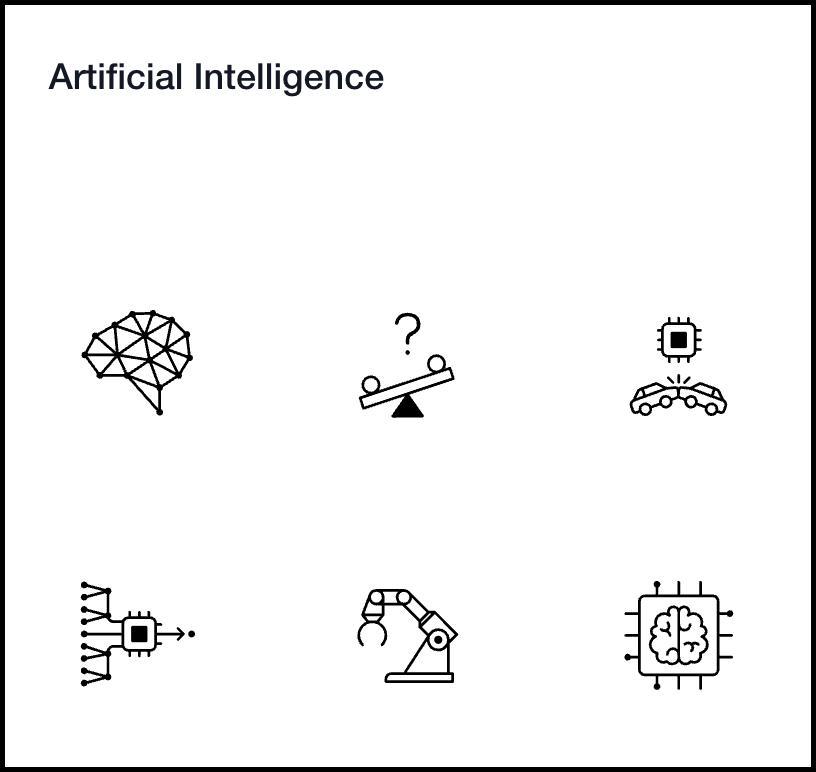 If you are looking for an avatar or a comic strip creator, then make sure to check out Pixton. Free and paid versions are available, and an account is necessary to get started. You can create an account as an educator or student through Google, Facebook or Microsoft.
Blush is an illustration tool that is perfect for creating customizable characters and scene illustrations. The illustrations are made by artists worldwide, with diverse customization options available.
Check out our blog post on creating visual content for more information on using Pixton and Blush.
3D Icons is another great icon source that contains a collection of 3D icons licensed under the CC0 License. All of the 3D icons are completely free to use without attribution needed. Each icon has four different colour styles and three angle positions. You can download all of the icons and use them on various platforms.

Sources for free Music
Using music in presentations is a great way to grab your audience's attention from the get-go or maintain their attentiveness throughout.
With proper timing, you can use music for quiet, reflective moments while your audience thinks through a concept or at the climax of your presentation when a big idea is introduced.
While music is available from many different platforms, ensuring you are taking music or sound effects from free sources is just as important. The following are a few great sources to get your music from.
This platform provides royalty-free music for videos searchable by tags and genre. All of the MP3 audio files are free to use with attribution. Bensound assures that their music is copyright-safe, so if you plan to upload your presentation to YouTube or other platforms, you are free to do so.
Paid accounts are available to receive certain benefits such as unlimited downloads, usage for digital paid advertising or making songs. While these are great perks, they most likely aren't necessary for a presentation, so the free account will work just fine.
This source is great for downloading WAV audio files searchable by tags and genre. The music is royalty-free and downloadable with a free account.
Something great about this source is that you can filter your search by genre, beats per minute (BPM), and song duration to find exactly what you need. Most tracks are royalty-free, but be sure to click the "free" filter at the top of the page before browsing to avoid the paid audio sources.
This source also contains a sound effects library where you can download hundreds of different sounds spanning many genres.
The YouTube audio library is available in the YouTube Creator Studio. To access it, you have to make a YouTube creator account. This library contains hundreds of tracks filtered by genre, mood, artist, duration and license type. You can download the audio straight from the library for usage.
A bonus about this library is that it outlines the track's license and how to use it directly with the source. You can download and use the audio for YouTube videos, even those you monetize, without attribution for most tracks. Some tracks have restrictions, so be sure to look at the right side of the audio file to review the licensing information before use.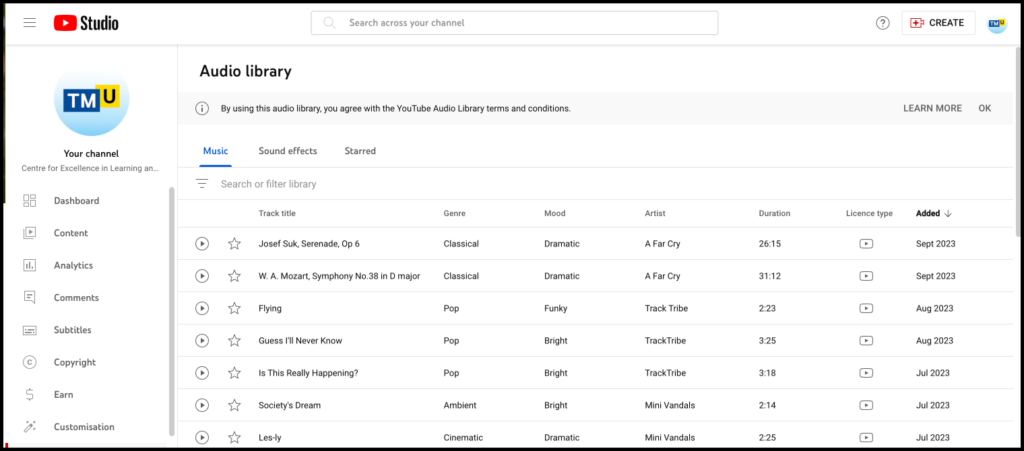 With all of these sources available, your presentations will be improved in no time. For more information on free multimedia production sources, be sure to check out the Content for Multimedia Production: Free Sources guide, created by the Centre for Excellence in Learning & Teaching (CELT) at Toronto Metropolitan University.
Vanessa Tiberio is a video and multimedia producer with the Digital Learning team at the Centre for Excellence in Learning and Teaching at Toronto Metropolitan University. She is a third-year student at TMU's School of Journalism.
Sally Goldberg Powell is the Instructional Technologist for the Digital Learning team at the Centre for Excellence in Learning and Teaching at Toronto Metropolitan University. She also teaches two first-year courses at the TMU's School of Journalism.

For more tips, check out the Tech for Teaching page.